ACKCS Rescue Trust Contacts
TO SURRENDER A DOG OR TO INFORM US OF A DOG IN NEED OF RESCUE, PLEASE CALL AND LEAVE A MESSAGE:  1-888-314-7779

Please continue scrolling down to learn more about how you can volunteer and help cavaliers in need! 

If you want to be considered for adopting one of the ACKCSC Rescue Trust cavaliers, you MUST visit the Rescue Trust website and complete a Preliminary Adoption Form.  We are a national organization and all applications are funneled to the appropriate District Director. 
Click HERE to learn more about the adoption process and complete the Preliminary Adoption Form!
 
About Cavalier Rescue & Volunteer Opportunities
The American Cavalier King Charles Spaniel Rescue Trust (www.cavalierrescuetrust.org) is a national not for profit organization to serve the needs of cavaliers being surrendered by their owners. Our club serves the ACKCSC Rescue Trust through volunteer work.

If you would like to become a volunteer, we would love to have you become part of the Rescue Trust network. You can designate just how you wish to participate too! You can help out by transporting cavaliers to a destination, picking up cavaliers from homes being surrendered and transporting them to one of the veterinary hospitals that the Rescue Trust has an account with, you can become a foster to a cavalier in need, network with your friends to find a cavalier the right home, or even perform home visits to determine if the home is a good fit for one of our rescued cavaliers. Of course, even just a monetary donation goes a long way to help out cavaliers being rescued as each one is fully vetted prior to being placed into a foster home. Click HERE to complete a volunteer form!

You can make a monetary donation on the Rescue Trust's website: www.cavalierrescuetrust.org via paypal in any amount.


If you would like to adopt a rescue cavalier, please check out the Rescue Trust's website and go to the "Available Dog" section by geographic location. You can also complete a preliminary adoption form online on the website and if a cavalier comes into rescue that we feel is a good fit, you will be contacted. Click HERE to go to the "Available Dogs" section!
 
Rescue cavaliers have so much love to give and need your love. Please consider adopting a rescue cavalier!

"LIKE" the Rescue Trust's Facebook page: American Cavalier King Charles Spaniel Rescue Trust, Inc ACKCSC Facebook page link

 
Shop Amazon & Rescue Benefits!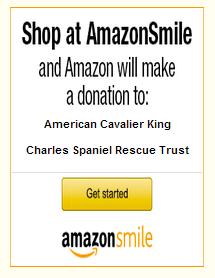 If you shop on Amazon, be sure to use the above link because your shopping will benefit our precious cavaliers in the Rescue Trust!
Amazon will donate 0.5% of the price of your eligible AmazonSmile purchases to American Cavalier King Charles Spaniel Rescue Trust whenever you shop on AmazonSmile.
AmazonSmile is the same Amazon you know. Same products, same prices, same service.
Support your charitable organization by starting your shopping at smile.amazon.com.
2017 Rescue Trust Presentation