2016 All Hallows Specialty AM Results (Judge Ms. A. Bubb)
Best of Breed
Ch Bentwood Forestcreek Rob Red
Breeders: Ginger Harrison & Kevin Cline; Owners: Heather Borton, Ginger Harrison & Kevin Cline
Best of Opposite
Lanmar Scandal
Breeders: Margaret Hubbard & Lorrie Gordon; Owners: Portia Baker & Margaret Hubbard
Best of Winners 
Lanmar Scandal
Select Dog
English & American Ch Brookhaven Believe It or Not
Breeder/Owners: Paula Ayers & Brenda Martz
Select Bitch
Ch Tusus Ring of Fire
Breeder/Owner: Susan Hardwick Bess
Award of Merit 1
GCH Stepamgar Skyfall
Breeder/Owners: James & Linda Shreffler
Award of Merit 2
Ch Almeara Extra Extraordinary
Breeder/Owner: Linda Whitmire
Winners Dog
Jayba Jack of All Trades
Breeder/Owners: Patricia & Michelle Lander
Winners Bitch
Lanmar Scandal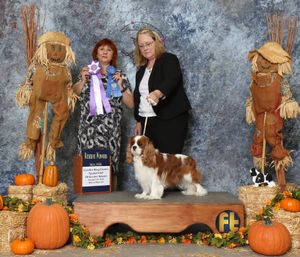 Reserve Winners Dog
Almeara Visionnaire CGC
Breeder: Linda Whitmire; Owners: Sharon Utych & Linda Whitmire
Reserve Winners Bitch
Ranlyn's Cristalle De Chanel
Breeder/Owner: Lynette Bragg
Best Puppy in Show
Ranlyn's Cristalle De Chanel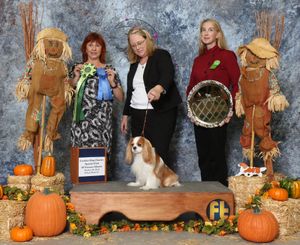 Best Veteran in Show
Karvale Brookhaven Finn THDA CGCA
Breeder: Karen M. Evans; Owner: Jim & Sharon Utych
Best Bred by Exhibitor in Show
Jayba Jack of All Trades
Click HERE for the full results  
Judges Critique of Major Winners (AM)
Best of Breed - Ch Bentwood Forestcreek Rob Red
Beautiful blenheim boy, gorgeous head and great expression. Good skull, ear set, good neck. Level topline; sailed round the ring with style. Beautifully presented and handled. He was pleasure to watch and go over. 
Best of Opposite Sex, Best of Winners and Winners Bitch - Lanmar Scandal
Very smart blenheim bitch. Lovely dark, round eyes with good pigment. Moved with grace. Spot on level top line. Moved with drive. Excellent rear. Flat skull, well set ears, good neck & shoulders.
Select Dog - Ch Brookhaven Believe It or Not
Very sound little dog. Prettiest of faces. Large, dark eyes. Short coupled with good tail set and carriage. Moved really well, just left his coat home today. Liked his head carriage. 
Select Bitch - Ch Tusus Ring of Fire
Nice type of bitch. Large, dark, round eyes and a good pigment. Rich colour. Moved well. 
Award of Merit (first) - GCH Stepamgar Skyfall
Smart blenheim dog, well broken and silky coat of correct texture. Good neck followed by well laid shoulders. Looked good in profile (movement and standing). Pleasing expression.
Award of Merit (Second) - Ch Almeara Extra Extraordinary
Blenheim boy, lovely eyes, round shape. Level topline. Sweet expression. Good tail set and movement. 
Winners Dog - Jayba Jack of All Trades
Blenheim boy. Lovely large, dark, round eyes with jet black pigment. Good ear set. Well placed shoulders from a good neck, Completely level top line on the move and followed by a well connected tail. Just the right chest room. Good rich colour. Loved his attitude. 
Best Puppy in Show - Raylyn's Cristalle de Chanel
Very feminine and pretty baby. Very sweet expression. Good top line which got better and better as the challenge went on. Exciting puppy who moved well. She was also my Reserve Winners Bitch. Will watch her progress as she matures.
Best Veteran in Show - Karvale Brookhaven Finn THDA CGCA
Great gentleman, sweet face. Well presented and moved well. Everything just right and full dentitia!